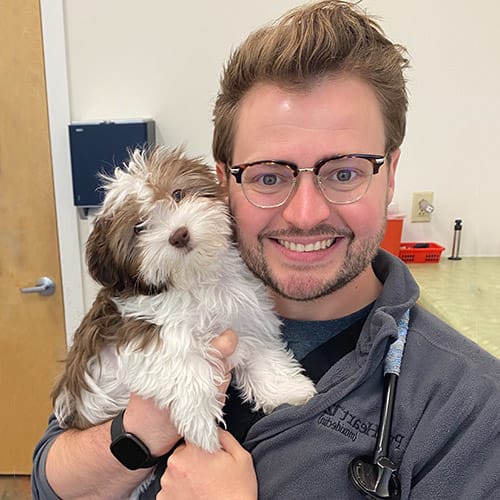 Dr. Josh Good
Dr. Josh Good was born in Honolulu, Hawaii, and raised in Chicago, Illinois. He is an internship-trained veterinarian with experience and passion for emergency medicine, behavior, and the human-animal bond. Dr. Good is a Fear Free certified practitioner that is usually found on the floor of the exam room with a pet in his lap (regardless of size). He truly loves interacting not only with his patients but his clients to create a safe and enjoyable atmosphere for all involved.
Dr. Good is coming from East Nashville where he was honored to be voted The East Nashvillian's Best Veterinarian in East in both 2021 and 2022. He lives with his beautiful wife Bryana Lavery Good, who owns Nashville's Dogs to Frogs Pet Sitting, and their zoo (3 dogs, 2 cats, 3 rabbits). He is also involved with Care For the Healers, an organization founded by Healers, to provide compassionate problem-solving and resource navigation assistance for ourselves, our colleagues, and our communities.
When not working he loves music, movies, nature, and discovery (the pursuit of novel approaches to physical, mental, emotional, and social wellbeing and healing).